Hello, again, Dear Reader. It's now mid- to late afternoon here in New Hometown, Florida. Outside, it's quite summer-like, considering that it's only one week away from Halloween 2020! Currently, the temperature is 86˚F (30˚C) under mostly sunny skies. With humidity at 61% and the wind blowing from the east at 8 MPH (13 KM/H), the heat index is 91˚F (33˚C). Tonight, we can expect partly cloudy skies and a low temperature of 72˚F (22˚C).
Well, friend, as it turns out, we (The Caregiver, The New Guy, and I) were able to go to the bank after all to cash the check I mentioned this morning. We had to rush out, though, because we left the house at 11:00 AM (Eastern) and the bank closes at noon on Saturdays. And because The New Guy is even more disabled than I – he was shot in the back during a carjacking in Miami, or so The Caregiver says – "rushing out" is not as easy as you might think. I have a pretty decent stride despite my (comparatively) mild case of cerebral palsy, but my ex's new boyfriend has to walk slowly and with support.
Anyway, we made it to the bank on time, then went to Just Cuts for Guys so that New Guy and I could get haircuts and – perhaps – even get our beards and mustaches trimmed. Well…that ended up being more complicated than we thought, thanks to the COVID-19 pandemic.
Before COVID-19, all a guy needed to do to get a haircut was show up during Just Cuts for Guys' operating days (Tuesdays through Saturdays) and hours, sign the check-in list, and indicate which of the barbers/stylists he wanted for the task, and sit and wait his turn.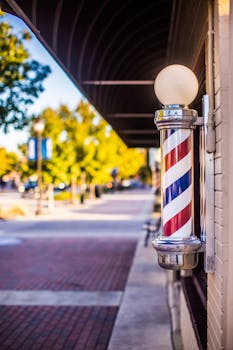 In COVID-19 times, though, things are quite different. We now have to sign the check-in list outside, make an appointment (we had to take the two slots available after 3 PM Eastern for ours ), and come back at the, ha-ha, appointed time.
Well, it was just after noon, so we drove to the new Cracker Barrel store/restaurant close to the house to have brunch and kill time before heading back to Just Cuts for Guys for our haircuts.
The outing with The New Guy and The Caregiver was, to say the least, awkward at best, enervating at worst. I mean, seriously. The Caregiver – who not so long ago was The Girlfriend – is either clueless or insensitive by behaving like a lovestruck schoolgirl – even though she just turned 55 – around the new boyfriend in front of me, the guy she professed to love and cherish for almost five years.
To be clear, The New Guy is a nice man (well, except for the fact that he had an obsession with The Caregiver and tracked her down on social media at a time when she and I were in a "rough patch" in our now-dissolved relationship, thus creating the confusing, depressing, and difficult situation I now find myself in) and I try to not be a jerk around him. But it is not pleasant to watch him interact with my ex as The New Boyfriend in my presence. Maybe they are just so "in love" that they don't understand how tactless they are…at least in my biased opinion.
So, yeah…it was not exactly a fun day out for me, although I did get a haircut after seven months of living with COVID hair. No beard or mustache trims, though. We had to wear masks throughout the entire process; I found prolonged mask-wearing to be a bit uncomfortable and unpleasant, but it's not as onerous as "rugged individualists" – aka "anti-mask protesters" claim it is.
Sure, smelling your own breath for 20-30 minutes isn't exactly the most wonderful thing, especially if you've consumed one or more cups of coffee, but unless you eat garlic or have poor oral hygiene habits, it's not a world-ending experience, either. And I didn't love the ear loops that attach the mask to my face. But, hey…I don't want to catch COVID-19 and die because some idiot who calls him- or herself a "patriot" thinks masks are an intrusion on people's Constitutional rights won't wear one. So…bleep you, anti-maskers, and the horse you rode in on!
I was hoping to go out for a constitutional, but I'm too tired. I have not gone anywhere except for quick check-cashing runs – the money goes to pay the rent for my room – once a month. This was my first time to a sit-down restaurant since we returned home from Disney Hollywood Studios in March, and it, too, was somewhat different from the Days Before COVID-19. I'm not going to go into it, although I will say that I ordered my favorite breakfast dish – Eggs in a Basket – and two cups of yummy coffee, which I consumed with gusto.
So, on that note, I think I'll close for now. I don't know what I'll do after I post this. I could read a book, or maybe watch a movie out in the Florida room – by myself, of course. I could have gone to the pool with "the Happy Couple," but I've already had enough awkwardness for one day. I'll be back with a post – or two – tomorrow, so until then, Dear Reader, stay safe, stay healthy, and I'll catch you on the sunny side of things.